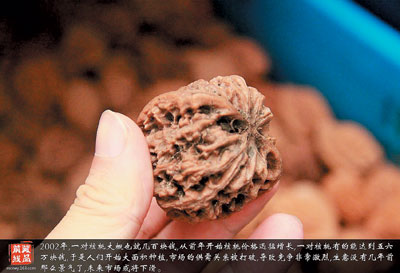 Wang Yuanyuan
    cheekywang@hotmail.com
    BEIJING markets such as Shilihe and Panjiayuan are seeing growing crowds of customers this month, with excited shoppers clamoring for an item that has an ancient history and is experiencing a modern revival — walnuts.
    A pair of walnuts at the markets can sell for 400 to 1,500 yuan (US$65-244) and an average booth can sell 40 pairs or more of walnuts in a day, making daily profits of nearly 10,000 yuan in some cases.
    Once popular toys in China's imperial court, walnuts — which when rotated in one's palm are thought to stimulate blood circulation — are making a comeback among the wealthy, some of whom see them as not only a way to spend their cash, but also as a distinctly Chinese status symbol.
    Walnut playing has 2,000 years of history in China. The trend first emerged in the Han Dynasty (206 B.C.-A.D. 220) and became very popular in the Ming (1368-1644) and Qing (1644-1911) dynasties. Among the upper levels of society, a pair of good collectible walnuts was a symbol of taste and social rank. Many noble people collected top walnuts and gave them to members of the imperial families to show their greetings and faithfulness.
    The bigger, older and more symmetrical, the better, said Beijing collector Kou Baojun, who owns more than 30 pairs of walnuts, most of which are more than a century old and have taken on a reddish shine from years of polishing in the palm.
    Many Chinese investors are turning their eyes to the collection market, particularly cultural collections, and spending on walnuts is correspondingly rising every year.
    A pair of walnuts that sold for 350 yuan 10 years ago can now sell for 3,500 yuan or even 20,000 or 30,000 yuan, collector Hu Zhenyuan said. Hu has bought entire trees from farmers to supply his shop in Beijing.
    Purchasing walnuts can be an exciting process. Like the "stone bidding" practiced in Yunnan Province by some jade dealers, many walnut collectors hope to make a fortune from bidding on walnuts.
    Walnuts for collection are often called "green peel walnuts," as they were originally wrapped in fresh green peels on trees.
    Buyers often choose a pair of walnuts wrapped in green peels of similar sizes and shapes and take off the peels after payment. If they are lucky and find two walnuts of large size, good shapes and clear stripes, they can sell them for very high prices. If the two walnuts happen to be symmetrical, or in pairs, they can sell them at up to 100 times the purchase price.
    This year's average price for walnut bidding is about 500 yuan a pair, according to reports.
    "Some green-peeled walnuts look very big, but they have thick skin, so you may have two in very different sizes, then you will lose big money. Some people may get no good walnuts after spending thousands of yuan," said a booth owner surnamed Zhang in Shilihe market. "It's a Chinese game with a long history. Only those who are not afraid of loss can play this game ... Of course, most of the collectors just buy those which are already paired."
    The walnut craze peaked in China in 2010. Prices have dropped slightly this year from 2012 due to the good weather for walnut tree planting.
    "Most of the walnuts for collections are grown in Hebei, Tianjin, Shanxi and Beijing areas," Zhang said. "These areas get a lot of rain, which is very good for the growth of walnut trees. If the spring is colder than expected, there will be fewer walnuts in autumn and the price will then go up."
    Although the production volume of walnuts is very good this year, prices still remain high due to decreases in walnut types. "There are much fewer types of walnuts now in China and it is very difficult to find good types, so a very good pair of walnuts can now be sold for more than 50,000 yuan on the market," Zhang said.
    Zhang advised investors and collectors to be careful of fake collection walnuts.
    "Some businesspeople use regular or bad walnuts to make collection walnuts. For example, they color the shells, turning light-brown walnuts into dark-brown walnuts. Some also use resin or other materials to change the walnuts' stripes and shapes. It is very difficult for non-experts to tell," Zhang said.
    Zhang said regular collectors who just want to buy walnuts for fun can pay about 500 yuan.
    "There are also bracelets made with very small collection walnuts that are good, too. It is still risky to invest large amounts of money on walnuts. If you are not a real speculator or a true collector, it is better to buy some at relatively lower prices," he said.