CHINA'S prestigious Lu Xun Literature Prize has come under fire after its most recent award winner for poetry was denounced as a "shame on poetry."
    Zhou Xiaotian, a poet and professor of the literature and journalism college of Sichuan University, won the prize for his poem collection "Jiang Jin Cha" ("Invitation to Tea").
    Not long after the announcement, Zhou's verses were posted online by Internet users with the charge of being "nothing more than doggerels unworthy of the prize."
    The post has attracted wide attention. Many people criticized the winner for the colloquial style of his poems based on the late singer-actor Leslie Cheung from Hong Kong and another on Nobel Prize winner in physics Yang Zhenning.
    The styles of the poems were also criticized by many poetry lovers. "Zhou used the techniques of traditional Chinese poetry. However, the quality of his work is really a shame. The essence of ancient poems is to create a meaningful atmosphere or a theme behind the words, but his words are so plain. Anyone could write a poem like that," said a netizen surnamed Fang.
    Zhou, however, has refuted the criticism of his work.
    "Doggerels are not necessarily ill-written poems. You can hardly expect people to read serious poems nowadays," Zhou said.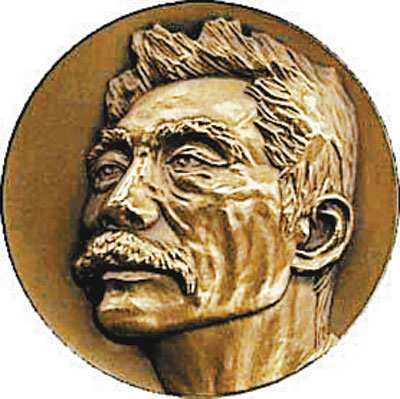 Although many people question whether Zhou won the prize because of his wide connections, he defended the fairness of the selection process, saying the whole procedure of voting was transparent and based on a sound system.
    Zhou's argument was also backed by other professional writers.
    "It's only some of Zhou's poems that have aroused controversy," said well-known writer Wang Meng. "Many people made comments after reading these poems. I think that most of them did not read the whole collection. There are some that are great and worth reading."
    The prize named after Lu Xun, one of China's best-known modern authors and essayists, was firstly awarded in 1986.
    Writers of outstanding short to middle-length novels, poems, prose, essays, reportage, literary reviews and theoretical works will receive the award. In the past it was awarded every three years and this year was the first time to introduce a "real-name" system and present the award every four years.
    Zhou's award was not the only argument in this year's selection. Some of the candidates who were expected to have a high probability to win gained zero votes in the competition.
    Alai, a well-known fiction writer, was one of the unsatisfied candidates. His nonfiction novel, "The 200 Year Legend of Kangba," gained zero votes in the category of "reportage." He is now planning to launch an investigation into the prize's selection process.
    "I was very shocked by the news. I could not say that I was the best, but it was impossible for me to get zero votes. I very much doubt the fairness of the selection," he said. "If it was some other prize, I would not care that much. However, the Lu Xun Literature Prize is a national award. As a taxpayer, I have the right to check the result."
    Alai said that he wanted to know that why his work got zero votes by the committee. "I spent a long time in Tibet to write this work. It introduces the history, lifestyle and transformation of the Tibet-Han area over the past 200 years. In 2013, it won the Nonfiction Award at the Maotai People's Literary Award," he said. "I don't know if it was because the work involves some serious issues, such as Tibet and other issues of ethnicity. However, I was 300-percent sure that it would not gain zero votes in the selection."
    However, some judges expressed that it is normal for a candidate to gain zero votes during the selection. "It does not mean that a writer who had won awards for novels can win prizes for nonfiction works. I think that this work does not fit into the category of 'reportage,'" said He Jianming, one of the judges.
    Alai said that he would continue to fight for his rights. "I don't know what result I can get from protesting whether there will be no chance for me to win the prize in the future after this. Although many friends tried to persuade me not to protest, I still hope that my efforts can help improve the selection process in the future," he said.
    (Wang Yuanyuan)