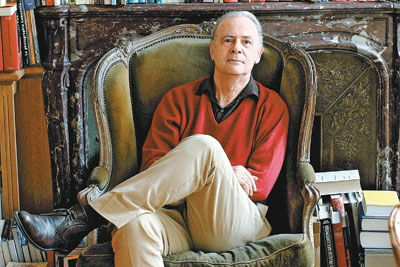 AS soon as the news came that French novelist Patrick Modiano was the winner of the 2014 Nobel Prize in Literature by the Swedish Academy on Oct. 9, the Nobel literature laureate immediately became one of the top-notch writers in China in a single day. Several publishers claimed that they would soon have his works translated and published in Chinese.
    The 69-year-old writer, whose works center on themes of time, memories and identity during the Nazi Occupation of his country, is a household name in France, but his reputation is little known outside of his home country.
    Modiano was introduced to China as early as the 1980s, and some of his works have already been translated into Chinese, such as "Rue des boutiques obscures," "Villa Triste" and "Dans le caféde la jeunesse perdue."
    Modiano's relationship with the Chinese literary world began more than a decade ago when one of his novels was named one of the "Best Foreign Novels in the 21st Century," an award that was jointly hosted by People's Literature Publishing House and the Chinese Society of Foreign Literature in 2003.
    An editor from the publishing house recalled that Wu Yuetian, director in the prize's judges' panel, commented that Modiano told a story of searching and memory in his uniquely smooth and plain way.
    Modiano even sent a letter to his Chinese readers in which he said he "prefers to express feelings after knowing that the book was to be translated into Chinese. I feel happy. I had longed for Chinese language in my childhood; I was obsessed with Chinese characters. My obsession probably influenced my daughter; she lived in Beijing for a long time so she could learn Chinese. Maybe this book's Chinese version carries a heavier tone of mystery and exoticism than its original French version, which is what I intended for the book when I wrote it."
    Chinese literary critic Ba Ye gave high appraisal of Modiano and said he was "probably at the same level with Milan Kundera." "His works mainly talk about the Second World War and have a good combination of vanguard and historical sense, the two aspects of thought and art. In this way, Modiano is unique," he said.
    "Modiano is one of the best contemporary writers in France, and one main feature of his works is memory. It represents a process for a generation of people to seek oneself. His works also have a unique fable style," said Yu Zhongxian, professor of French literature at the Chinese Academy of Social Sciences, in an interview with ifeng.com.
    The late famous Chinese writer Wang Xiaobo also admired Modiano, considering him to be one of the greatest contemporary novelists in the world.
    In his article "The Art of Fiction," Wang wrote: "The contemporary novelists who have made the greatest achievements are Italo Calvino, Marguerite Yourcenar, Gunter Wilhelm Grass, Patrick Modiano, and Marguerite Duras."
    Huang Yaqin, the editor in charge of the Chinese translation of Modiano's works, said Modiano's works were new to most Chinese readers since the market favors translated works from Japanese and English.
    "I was surprised that he (Modiano) won the prize. I thought the judges would favor writers with a political stance. Modiano's works touch little politics, so his works won't have issues with China's scrutiny," Huang said. "You'll find him to be a typical old Parisian, which is abundantly illustrated in his works."
    Huang said Shanghai Translation Publishing House, the Chinese publisher for Modiano's works, said it chose Modiano's works because he is an orthodox writer, but didn't print his books in large volume because his works were not hot publications.
    Huang said it remains difficult for Chinese readers to appreciate French literature because they lack thorough understanding of French culture. "I feel from my work experience that Chinese people's lives are quite different from French people's, and that may influence people's literature acceptance. For example, marriage in French culture is replaced by co-inhabitation, but most Chinese readers may not accept fiction with that concept," she said. (Anna Zhao)