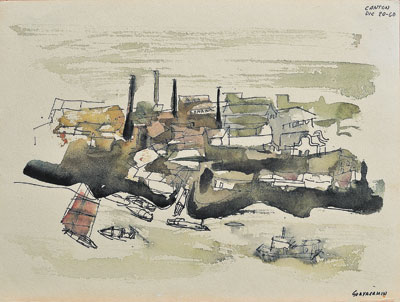 master Guayasam
ECUADORIAN painting master Oswaldo Guayasamin (1919-1999) is one of the most representative artists of Latin America and has an impressive reputation with painting communities around the world. A large-scale exhibition entitled "Tears, wrath and tenderness: Paintings by Oswaldo Guayasamin" displaying 120 paintings and drawings by Guayasamin is now on display at the Guangdong Museum of Art in Guangzhou.
Guayasamin was born in Quito, Ecuador, to a poor family of American Indian descent. He was an excellent student and graduated from the School of Fine Arts in Quito in 1941. In his early years, the world-famous modern murals in Mexico influenced his art. Later, he created his own distinct painting style by combining the profound tradition of Latin American art and some of the forms of modern Western painting. Throughout his life, he dedicated all his efforts to creating paintings and public murals with imaginative forms and strong visual impact in order to fight for peace, freedom and equality for the dispossessed public in Latin America and people all over the world. People have been deeply touched by his extraordinary paintings, and he has won many international prizes.
Employing expressionist forms and colors, his early works mainly reflected the hard lives of impoverished people, most of them being American Indians.
In the 1930s and 1940s, he visited many Latin American countries, such as Peru, Bolivia, Chile and Argentina, where he drew sketches for the poor. Based on nearly 3,000 sketches, he created his series "Trail of Tears," which represented the lives and traditions of mixed-blood, indigenous and black people and demonstrated his shift in painting styles from expressionism to cubism. The cubist style was created by Pablo Picasso, who made his famous cubist painting "Guernica" in 1937 to protest against wars in Spain. Guayasamin developed this style further. His cubist paintings are more recognizable and have a flavor of magical realism of Latin American art.
From the early 1960s to the mid-1970s, Guayasamin created his series "Age of Wrath" with more than 200 paintings, which he derived from thousands of sketches. In this series, he depicted the horror and sufferings of the people during the Second World War and wars in later periods. By condemning the cruelty of war and social injustice, he emotionally expressed people's desire for peace and happiness. In his oil painting "The Mother" (1969), the geometric forms and somber colors effectively express the grief and misery of the figure. From this, viewers can see that the cubist style, with extremely concise and artistic forms, naturally became a powerful way for him to express people's inner worlds and his own sincere emotions.
During and after the 1980s, Guayasamin created the series "Tenderness" with another new style, which is distinguished with pleasant, bright colors and soft lines, representing family affection and the gentle love between mothers and children. The mother in this series is a symbol of reconciliation and a protection of life, bringing hopes of peace to the world.
Specially selected by the Guayasamin Foundation from its collection, the works in this exhibition present an outline of the development of Guayasamin's art, including his early works and his famous trilogy, "Trail of Tears," "Age of Wrath" and "Tenderness." In addition, some landscape sketches that he created in Guangzhou and Hangzhou in 1960 when he was invited to visit China for a cultural exchange are also on display. (Wang Haiying)