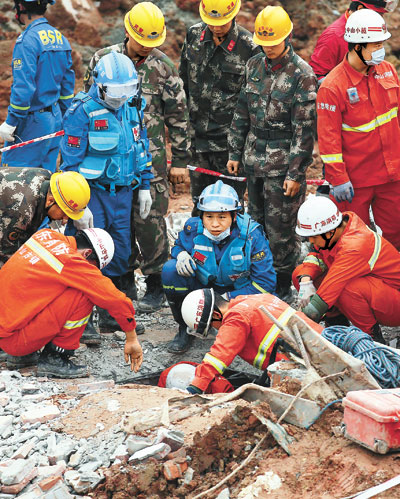 Han Ximin
    ximhan@126.com
    ONE body was pulled from the Guangming New Area landslide disaster site yesterday morning. Another 76 people remained missing, according to the disaster relief headquarters.
    The identity of the male victim has not been announced, but a list of 73 people known to be missing was made public yesterday afternoon.
    "We are confirming the identities of the remaining three people, believed to be two males and one female," Liu Qingsheng, vice mayor and chief of Shenzhen Municipal Public Security Bureau, said at the news conference.
    The majority of the missing come from Guangdong and Central China's Henan and Hunan provinces.
    Rescue work is going on at 16 places, with 4,000 rescuers using special equipment and vehicles to search for anyone who may have survived.
    The body was dug out at around 6 a.m., more than 40 hours after the landslide that buried or damaged 33 buildings in the Hengtaiyu Industrial Park in Guangming New Area.
    "We detected signs of life several times, but our efforts were in vain," said Yao Yingzheng, a firefighter who participated in helping pull out the first victim.
    "We felt terrible when doctors said he was dead," he said. "But as long as there are signs of life, we will try our best."
    A vice general manager of Shenzhen Yixianglong Investment Development Co., the operator of the dumpsite, was taken into police custody yesterday, according to the China Youth Daily microblog.
    The company paid 750,000 yuan (US$119,000) to Shenzhen Luwei Property Management Co. for the right to operate the dumpsite, the report said.
    Local officials have not confirmed the reports.
    The number of missing has been revised down from 85 to 76 as some thought to have been missing have been reached by phone.
    The disaster occurred at around 11:40 a.m. Sunday, sending a huge pile of construction waste into an industrial park and covering an area of 380,000 square meters with silt 10 meters deep.
    Wang Yong, a State councilor, visited the scene yesterday and said the land ministry and related departments would study what caused the disaster and make their findings public. "The top priority is searching for life. We won't miss any trace of life signs," Wang said.
    The evacuated people, around 1,000 in total, are being looked after at temporary shelters.
    "We are providing food and drink, mattresses and quilts to meet people's basic needs," said Chen Jun, a volunteer at a sports center in Guangming, according to Xinhua News Agency.
    Guangdong provincial authorities held a work safety teleconference in Shenzhen yesterday. Regions in the province are required to tighten inspections to prevent similar incidents.