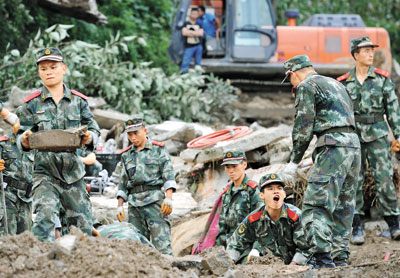 Rescuers search for survivors among debris at the site of a landslide in Yingping Village of Fuquan City, Guizhou Province, on Thursday.
SZ government spending drops
  

    SHENZHEN government's spending on vehicles, overseas trips and receptions dropped by 15.9 percent last year compared with the previous year's figure amid the country's frugality campaign, according to a meeting of the city's legislature Wednesday.

...
Zara, H&M blacklisted for quality
  

    IMPORTED clothes from international fast fashion brands, or ones that quickly make clothes in vogue to keep up with trends, including Zara, Mango, H&M and Forever 21, found their names on a blacklist made public by China's quality watchdog Wednesday.

...