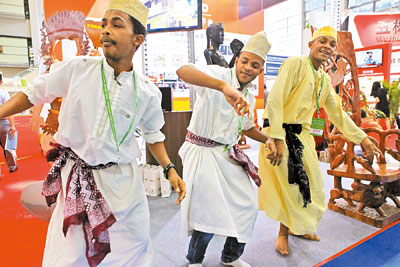 Students from the Union of the Comoros in Africa dance at the booth of Shenzhen Right Net Tech Co. Ltd. during the Bao'an Industry Development Expo, which opened Thursday at Shenzhen Convention and Exhibition Center in Futian CBD.
Expo showcases vibrant Bao'an
A THREE-DAY exhibition showcasing all of the key industries of Bao'an District is being held at the Shenzhen Convention and Exhibition Center until July 30, bringing the latest products and technologies to visitors. ...
CHINA LEGALIZES RIDESHARING SERVICES
CHINA on Thursday announced new rules governing ridesharing services, making clear for the first time that they are now legal in a giant market, where Didi Chuxing is at loggerheads with U.S.-based rival Uber.

...