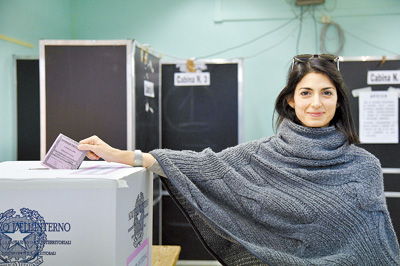 Rome Mayor Virginia Raggi casts her ballot for a referendum on constitutional reforms yesterday in Rome. Italians began voting yesterday in a constitutional referendum, on which reformist Prime Minister Matteo Renzi has staked his future.
Good technology environment keeps Frenchman in Shenzhen
QUICK logistics, convenient e-commerce services and an environment conducive to purchasing hardware components have been the major reasons why Yannick Silva, a French software expert, has stayed in Shenzhen for over a decade.

...
GEORGIA TECH & TIANJIN UNIV. TO BUILD COLLEGE IN SHENZHEN
ANOTHER jointly built university is expected to settle in Shenzhen soon. The Shenzhen Municipal Government inked a cooperation deal with Tianjin University and Georgia Institute of Technology (Georgia Tech) on Friday to build a college in Shenzhen.

...