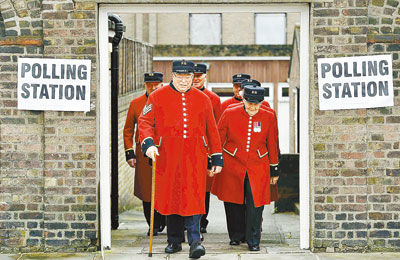 Chelsea Pensioners leave after voting in the EU referendum at a polling station in Chelsea in London, Britain, on Thursday. Britons started voting in a referendum to decide whether the U.K. continues its membership of the 28-member EU.
EXTREME WEATHER KILLS 51
FIFTY-ONE people died and dozens were injured in extreme weather in East China's Jiangsu Province on Thursday, local authorities said.

...
BLACK MARKET TAXIS THRIVE AT SZ AIRPORT
THE area outside of Shenzhen International Airport is plagued by private car drivers acting as illegal taxis and reportedly employing strong-arm tactics to get money, an investigative report by the Shenzhen Evening News said Thursday.

...