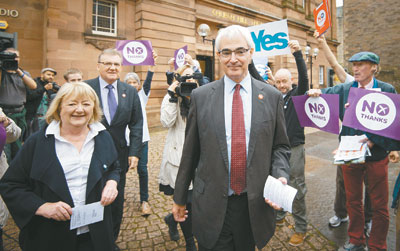 THE fate of the United Kingdom was at stake Thursday as Scotland began voting in a referendum on becoming an independent state, deciding whether to unravel a marriage that helped build an empire but has increasingly been felt by many Scots as stifling and one-sided.
City home to 25 billionaires: report
  

    SHENZHEN is home to 25 billionaires, each with a net asset of more than US$1 billion, ranking the city the fourteenth in the world as home to the most billionaires based on a report released by Wealth-X and the United Bank of Switzerland in Singapore on Wednesday.

...
SZ 'Asia's best performing city'
  

    SHENZHEN is the best performing city in Asia, according to a new index compiled by U.S. independent economic think tank the Milken Institute, which was released Thursday.

...