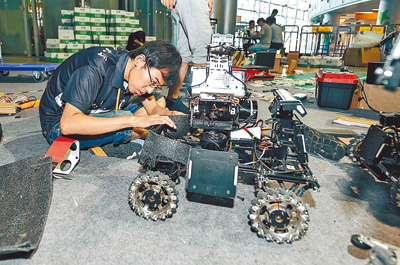 A contestant from the Chinese University of Mining & Technology adjusts a robot during the RoboMasters Competition 2016 Finals that opened in Shenzhen on Thursday.
Woman cheated out of ¥40m by 'emperor'
AN absurd case was heard by a Shenzhen court Wednesday in which two men, one pretending to be a financial titan and the other claiming to be Emperor Qianlong — one of the greatest ancient emperors from the Qing Dynasty, who would be 300 years old now — swindled a woman out of over 40 million yuan (US$6 million).

...
MAKER FAIRE SHENZHEN TO BE HELD IN OCTOBER
MAKER Faire Shenzhen 2016, an annual gathering for makers to exchange ideas and display their creations, will be hosted in Sea World in Nanshan District from Oct. 21 to 23, according to a press conference hosted by organizers Thursday.

...