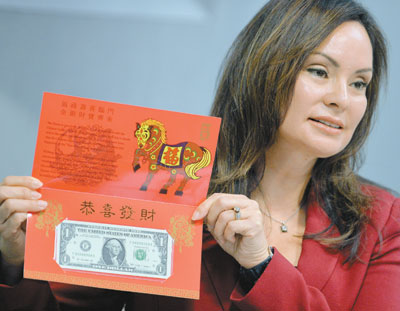 U.S. Treasurer Rosie Rios displays the "Year of the Horse" one-dollar bill at the Bureau of Engraving and Printing (BEP) in Washington, D.C., on Tuesday.
HK starts public consultation for electoral reform
  THE Hong Kong government yesterday officially kicked off public consultation for a constitutional reform that aims to realize the election of the SAR next chief executive by universal suffrage in 2017. ...
China issues 4G licenses
  CHINA issued yesterday licenses for "fourth generation," or 4G, mobile phone services, in a move to boost economic growth and job creation. ...