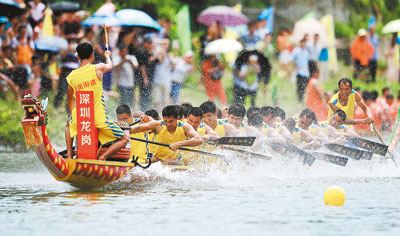 Participants compete in a dragon boat race during a dragon boat carnival on the Longgang River in Longgang District, Shenzhen, on Thursday.
Robotic auto-parking may solve parking woes
A SHENZHEN technology company has, seemingly, come up with a panacea for the millions of drivers across China plagued by the headache of having to hunt around, sometimes for hours, for a parking space in overcrowded cities.

...
12 COMPANIES GET AWARDS IN QUALITY PUSH
TWELVE Shenzhen-based enterprises were given the 2015 Mayor's Quality Award by the city's Mayor Xu Qin on Wednesday to honor the enterprises' commitment to high-quality products and services, the Shenzhen Evening News reported Thursday.

...