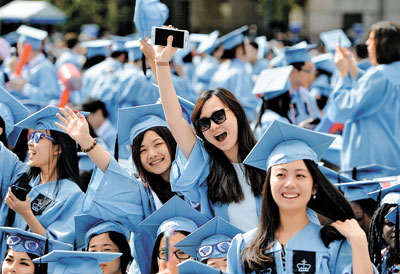 Chinese girls at the graduation ceremony of the Columbia University in New York, the United States, on Wednesday. Among about 15,000 graduates were nearly 600 Chinese students.
Girl killed in Luohu by mental patient
  

    A 10-YEAR-OLD girl was killed on Tianbei Road 4 in Luohu District on Wednesday, and seven others were injured by a mental patient with a knife who is thought to have escaped from Kangning Hospital, Chinese-language media reported Thursday.

...
PARTY CONGRESS LAYS OUT PLANS FOR COMING YEARS
  

    AT the opening of the Sixth Shenzhen Party Congress on Thursday, Party chief Ma Xing-rui told 480 representatives that Shenzhen will make efforts to continue as a national economic center, become a more international city and improve the livelihoods of its residents over the next five years.

...