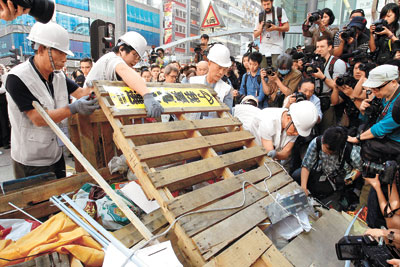 HONG KONG bailiffs tasked to enforce a court order against a key protest camp successfully tore down barricades at an intersection in Mong Kok yesterday, after a tense face-off with demonstrators.
With no indictment, chaos fills Ferguson streets
  

    CHAOS returned to the streets of Ferguson after a grand jury declined to indict a white police officer in the death of Michael Brown — a decision that enraged protesters who set fire to buildings and cars and looted businesses in the area where the unarmed, black 18-year-old was fatally shot.

...
Orchid species genome completed
  

    SCIENTISTS from seven institutes in China and abroad have completed the world's first whole genome sequencing of an endangered species of orchid in a historic research initiated by a Shenzhen institute.

...